THE ROOTS OF WADO-KI KARATE
(The Way of the Peaceful Spirit)
Welcome to the Roots of Wado-Ki Karate. I am writing this blog because I have recently had a great number of emails asking me how and where Wado-Ki Karate originated. This is a great question and deserves an answer. I am qualified to answer this question because I held a Shodan, Black Belt rank in the Wado-Ryu style of karate when it migrated, and Wado-Ki Karate was born. I hope you enjoy reading about the Roots of Wado-Ki Karate.
Domo Arigato,
Master Ramsey
Master Tom Ramsey and Sensei Connie Ramsey 
Tom Ramsey is a Master Black Belt (5th degree) in the Wado-Ki style of Karate and has dedicated his time and efforts over the past 45 years to martial arts. He is joined by his wife Sensei Connie Ramsey.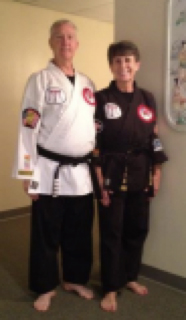 Master Ramsey first practiced the art of self-defense learning Jiu-Jitsu from 1969 through 1971, earning a  Green Belt Degree. Having fallen in love with Martial Arts, he then studied Karate. Choosing the  Wado-Ryu Japanese style of Karate under the direction of Sensei Roger Jerome, Tom achieved his  Shodan (1st Degree) Black Belt in 1975 and then achieved Nidan (2nd degree) Black Belt in 1982. In 2004  and under the direction of Grand Master Roger Jerome. Master Tom Ramsey achieved the level of Sandan (3rd degree) Black Belt in the Wado-Ki style of Karate, Yondon (4th degree) Black Belt in 2010, and in 2014,  Sensei Ramsey earned his Master (5th degree) Black Belt in Wado-Ki Karate.
Master Ramsey's training focused not only on self-defense techniques but also on the art of using weapons in a controlled atmosphere. These weapons include the Bokken, Jo, Bo, Kali, Sais, and the Nunchucks.  In 2004, Sensei Ramsey also expanded his knowledge in the Martial Arts by training for three years in the Nihon Goshin style of Aikido.
Master Ramsey and Sensei Connie Ramsey want to share their passion for the Martial Arts by teaching students the skills they have developed throughout the years. They believe that even students with mild physical disabilities can benefit and enrich their lives through learning the Martial Arts. Their goal is to teach students focus, respect, proper attitude, confidence, and discipline while teaching the physical components of the Martial Arts. In the process of becoming proficient in karate, the students will also gain increased coordination, balance,  and improved memory.
Master Ramsey's Past Affiliations include:
Member, All Japan Karate-Do Federation
Member, Wado-Ki Martial Arts Association Inc.
Member, Wado-Ki Weapons Association Inc.,
Member, Nihon Goshin Aikido Association
HISTORY OF WADO-KI MARTIAL ARTS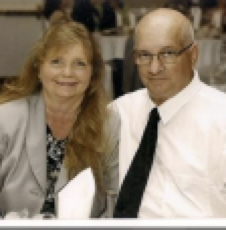 Grand Master (10th Dan) Roger Jerome &  
Grand Master (9th Dan) Dotty Jerome
Roger Jerome is the Soke, founder and head instructor of Wado-Ki Martial Arts Association, Inc. headquartered in Lansing, Illinois. Mr. Jerome has dedicated most of his life to the Martial Arts and is the  Grand Master (Judan),10th degree of Wado-Ki Martial Arts.
Master Jerome began practicing the art of karate in 1964. He was impressed with the self-control demonstrated by martial arts experts and pursued all of the knowledge he could find about the art. He settled on the Wado-Ryu style of karate and achieved his Shodan (1st degree) Black Belt in 1974.
Master Jerome did not limit himself to the Wado-Ryu style of karate. He also achieved Shodan in the  Shudakan style in 1977. Continuing his progress in Wado-Ryu karate, Master Jerome also went on to achieve his 3rd degree and his 4th degree Black Belt. In addition, Master Jerome achieved Brown Belt in  Aikido, Black Belt in Jui-Jitsu, and an advanced rank in Kali.
In 1981, Wado-Ryu Karate-Do Federation disbanded after Hironori Ohtsuka, the founder of Wado-Ryu  Karate nominated his number one son as the successor of the Wado-Ryu Karate-Do Federation. So it was at this time on June 1, 1981, that Master Jerome with his vast knowledge and experience of the martial arts,  founded the Wado-Ki style of Karate and the Wado-Ki Weapons Association. Using Wado-Ryu as the foundation along with the best qualities from all of the Martial Arts disciplines he studied over the years,  developed a style that stresses a balance between art and functional self-defense. Master Jerome's motto is "All are welcome who wish to learn".
THE HISTORY OF WADO-RYU KARATE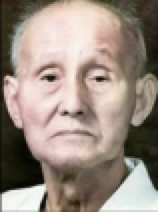 Hironori Otsuka Sensei 
The man who started it all is Hironori Ohtsuka. "Wado" began officially in May of 1934 when HironoriOhtsuka registered his own style of karate that was called "Wado-Ryu" and it was recognized as an independent style.
Hironori Ohtsuka was born in Shimodate City, Ibargi, Japan on June 1, 1892. Ohtsuka was first introduced to the Martial Arts by his uncle Chojiro Ebashi who started teaching him Jiu-Jitsu. It was at this point that Ohtsuka became immersed in the Martial Arts.
At the age of 5 years old, Ohtsuka started school where he studied Shindo Yoshin Jui Jitsu under the leadership and guidance of Sensei Shinzaburo Nakayama, the third Grand Master of this style of Jui Jitsu.  The lessons he learned from Sensei Shindo Yoshin play a major part in the development of "Wado"  karate. Between 1910 and 1917 Ohtsuka started work on improving the techniques he had learned and then started to combine them with other martial art techniques. During this time Ohtsuka also learned about the body's vital points, both for attacking and for healing purposes. He also studied the art of "bone setting".
In 1917 it is believed that Ohtsuka met Sensei Morihri Ueshiba, the founder of Aikido. Ohtsuka began studying Aikido while continuing to train in Jui Jitsu. After two years Ohtsuka decided to become a full-time Martial Artist. In 1920 Ohtsuka was awarded the highest degree of Shindo Yoshin Ryu Jui Jitsu and took the rank of fourth Grand Master.
At a sports festival in 1922 Ohtsuka was introduced to karate where Sensei Gichin Funakoshi was invited to demonstrate his style of Okinawan karate. Impressed with this "new" style of martial arts, Ohtsuka went for an extended stay with Sensei Funakoshi and learned all of the katas in the Okinawan karate style.  Ohtuska continued to study Jui Jitsu, Aikido, and Karate. By 1929, Ohtsuka became a registered member of the Japan Martial Arts Federation.
Now married and starting to raise a family, Ohtsuka continued improving his combined or "blended" style of martial arts. Sensei Ohtsuka's own personalized style of karate was officially registered in 1939 with the Japan Martial Arts Federation under the name of "Wado-Ryu". Other styles that were registered included Shotokan Ryu, Goju Ryu, and Shito-Ryu.
Until the 1960's Wado-Ryu and other Martial Arts remained on the small island of Japan. Sensei  Ohtsuka continued to train and instruct in Japan while his highly skilled and trained Wado-Ryu instructors spread the style across the world. By the 1970's Wado-Ryu Karate had become established worldwide.
In 1972, Sensei Ohtsuka was awarded an honor never before bestowed upon any karate master. The president of the International Martial Arts Federation, a member of the Japanese royal family, presented  Master Ohtsuka with the title of "Meijin", the first 10th Dan Martial Artist in karate.
Meijin Hironori Ohtsuka continued to lead the World of Wado-Ryu Karate until November 1981. Meijin  Ohtsuka decided to give up his position as Grand Master of Wado-Ryu Karate to his son, Hironori  Ohtsuka the 2nd. as his
successor. However, other high-ranking karatekas of the Wado-Ryu system were opposed to this and wished for a different leader to be appointed. After many negotiations took place over this issue, no agreement could be settled and some of these high-ranking Wado-Ryu karatekas broke away from this system and formed their own associations. To name a couple of these, The Wado-Kai Federation of  Canada led by 9th Dan, Sensei Master Masaru Shintani, and Wado Ki Martial Arts Association,  Incorporated led by Kudan, 10th degree Grand Master Roger Jerome
On January 19, 1982, just two months after nominating his son as successor to the Wado-Ryu Karate-Do  Federation, Hironori Ohtsuka (Meijin) peacefully passed away. Wherever karate is practiced throughout the world, he will always be remembered for his personal dedication and enormous contribution to the  Martial Arts and to Wado-Ryu Karate.